Now more than ever, the Area Agency on Aging of Western Michigan is the source for seniors.
Here at Area Agency on Aging of Western Michigan (AAAWM), our commitment to supporting seniors, persons with a disability, and their caregivers has remained our top priority throughout the pandemic. We want to be sure that those we serve in our nine-county region are looked after and cared for during this uncertain time. You're likely feeling some uncertainty heading into the winter season, but know, support is here. Below are just a few of the resources available to ease the burden for caregivers and support older adults:
Strong Partnerships & COVID-19 Senior Support
We have an outstanding network of Older Americans Act (OAA) and Kent County Senior Millage (KCSM) Partners who provide vital services to seniors. With the current COVID-19 crisis, these services are more important than ever to the seniors that rely on them. Our Older American's Act and Kent County Senior Millage Partners have stepped up to the challenge of continuing to serve seniors at this time. COVID-19 support services have included home-delivered meals, virtual support groups, check-in phone calls, and vital in-home care. Through wellness checks via phone, partners can determine client needs and deliver essential items to those who are isolated due to coronavirus. Not only does this aid those who may be home-bound, ensuring their health and safety, but it can also relieve some of the burdens from the caregiver as well. You can get a further overview of how some of our partners have risen to the challenge here. If you'd like to get started you can follow the steps outlined here.
Virtual Offerings
Most of our programming has transitioned to virtual platforms so you can continue to receive support.
Family Caregiver University
Our Family Caregiver University (FCU) provides practical education and support to caregivers in West Michigan, one class at a time. With the current coronavirus crisis, we realize this support is now more important than ever. As Sarah Sobel, Contract Administration and facilitator of our Family Caregiver University remarked, "it was important to our clients and important to our caregivers to know that they weren't alone." Therefore, our class offerings have gone virtual! Family caregivers have been able to easily take part in the recent online classes from afar while fostering a sense of community with other participants and learning from experts on a variety of caregiving topics from how to support family caregivers during coronavirus to tips for staying socially connected from afar. You can find upcoming virtual FCU classes at www.caregiverresource.net.
Healthy Aging
Our Healthy Aging programs have gotten in on the virtual fun as well. Participants have joined online workout classes to help them keep moving from home! You can visit www.aaawm.org/ha to learn more.
Dementia Friends
Would you like to learn more about dementia, how it affects people, and what actions you can take to make a difference for people living with dementia? Our Dementia Friends sessions have also gone virtual. In a session, you will learn how to recognize signs of dementia, how to effectively interact with people living with dementia, and how you can make our community a friendly place through your daily work and community interactions. You can find information on upcoming sessions at www.aaawm.org/dfmi.
Advocates for Senior Issues
The Advocates for Senior Issues is a non-partisan group empowering seniors through education and advocacy. The group has moved their meetings to Zoom, you can learn more at www.aaawm.org/afsi.
Staying Connected
The current coronavirus pandemic has certainly changed the way we go about our everyday lives. With social distancing measures in place for our health and safety, our regular family dinners, outings with friends, and everyday errands have come to a sudden halt. These changes may have us feeling like we have lost the social connections we have with others. We've put together a number of resources to help you stay connected to others.
Making IT Easier
Our "Making IT Easier" video series was designed to teach older adults to use technology to enhance their lives. You can check out the videos here, including lessons on how to Facetime, ordering grocery delivery via Shipt, getting a ride with Lyft, and more.
COVID-19 Boredom Busters
Check out our list of boredom busters with fun activities you can safely do from home while social distancing. This list is broken down into two categories, ideas using "online/technology" and those without, so there is a little something for everyone!
Michigan StayWell Counseling
Michigan StayWell Counseling is also available. If you are experiencing emotional distress in the context of COVID-19, call the COVID-19 Hotline at 1-888-535-6136 and press "8" to talk to a Michigan Stay Well counselor at no cost.
Transportation Resource
In Kent County, Ridelink is currently available for ALL transportation needs. COVID-19 safety precautions are outlined below. If you are outside of Kent County, give us a call to be connected to other transportation resources in our nine-county region.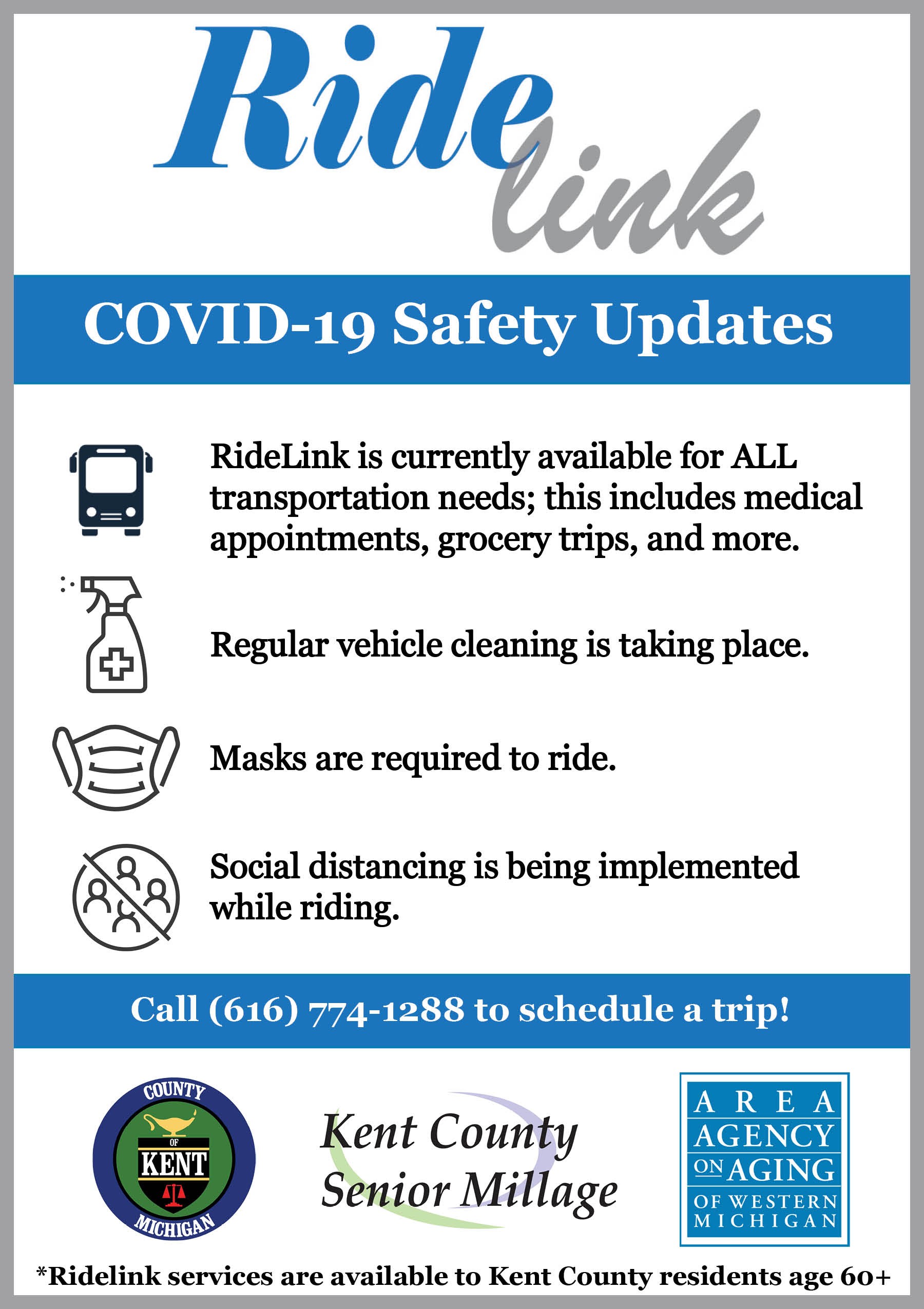 It Starts With a Phone Call...
Our Information and Assistance Department has remained an essential senior resource for the region. Our staff has been hard at work answering questions and connecting older adults and caregivers to resources throughout the nine counties. You can stay updated on resources at www.aaawm.org, or visit our Facebook page. If you have questions on further support that is available or would like to be set up with services mentioned above, you can call (616) 456-5664 or (888) 456-5664.