Call for a ride
---
616-774-1288
866-425-3848
Welcome to RideLink
About RideLink
RideLink provides Kent County adults, age 60+, affordable transportation throughout Kent County. Seniors can schedule a ride to a medical appointment, the grocery store, or even to visit a friend. RideLink provides safe and reliable transportation when driving is no longer an option, or inclement weather makes driving hazardous.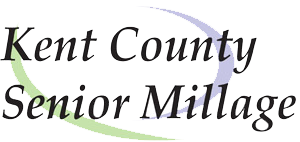 Funded by the Kent County Senior Millage, RideLink provides people with independence and the ability to freely move throughout Kent County. Using RideLink also offers family members and caregivers relief from being the sole person responsible for providing transportation.
Transportation is provided by:
How does it work?
Register as a rider:
Before using RideLink, participants need to register. Registration can be done online by going to www.RidetheRapid.org.
A registration form can be sent by mail by calling (616) 774-1288 or tollfree (866) 425-3848.
Five business days are needed to process your registration, so plan ahead.
Schedule your ride:
RideLink's knowledgeable and friendly call center staff, located at The Rapid, make scheduling trips easy.
The call center is open Monday - Friday from 8:00 a.m. - 4:30 p.m.
Rides can be scheduled up to 7-days in advance. The sooner you schedule your ride - the better. Rides can be scheduled up to noon the day before you need a ride. Call (616) 774-1288 or the tollfree number (866) 425-3848. Make sure to have the full address (number, street, zip code) of where you're being picked up and the full address (number, street, zip code) of where you're being dropped off when you call.
After scheduling your ride, you are welcome to call the day of your ride to find out which RideLink partner will be transporting you. We ask that you be ready 15-minutes before your pickup time.
Transportation for individuals with wheelchairs or mobility devices is provided; it only needs to be mentioned when registering and scheduling a ride for the first time. In addition, Personal Care Attendants and service animals may accompany passengers at no additional cost.
Fee for Service Reminder:
Please take note there is a $2.00 suggested free for service each way. These funds go directly back into the program to help continue providing transportation for you and others.
Thank you for your support of RideLink!