Small Change, Big Impact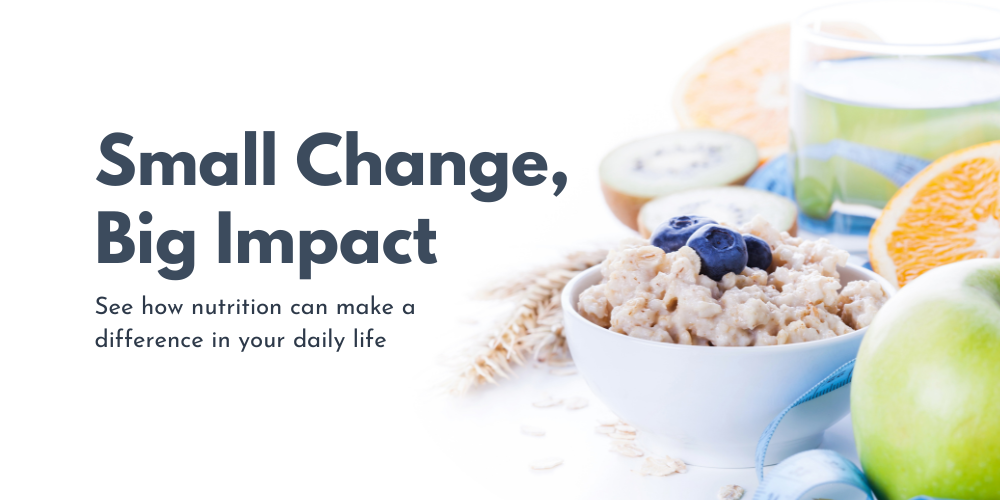 By: Shae Hand, AAAWM Dietetic Intern
Each morning when you wake up, there is normally a list of things you know you'll do that day. From brushing your teeth to having your morning cup of coffee or reading the paper, these little choices make up a daily routine. Once something becomes routine, it can feel difficult to adjust it, but sometimes even a small change can make a big difference. A perfect example of this is the positive changes that occur when you focus on healthy eating.
March is National Nutrition Month making now the perfect time to focus on making informed food decisions and developing healthy eating habits. Daily food and beverage choices might feel set in stone, but with the right mindset, small tweaks can be made. Take protein consumption as an example. When looking at people over the age of 71, about 50% of women and 30% of men do not consume enough protein.1 Eating enough protein is key because as people age there is a natural decrease in muscle mass. Adequate protein intake is one of the best ways to prevent or slow this loss and maintain strength. Fortunately, protein is found in many foods like poultry, seafood, beans, dairy, and nut butters so increasing consumption of these foods can boost your daily protein intake.
This same principle can be applied to other, lesser-known nutrients like fiber. 95% of American adults do not consume the recommended amount of fiber each day even though fiber has plenty of benefits like improved digestion and reduced risks of chronic diseases like heart disease, diabetes, and some forms of cancer.2 Plus, eating just one more piece of fruit, another serving of vegetables, or a side of whole grains can boost your daily fiber intake which means even a small food change can make an impact.
There is a lot that goes into eating a well-balanced diet and at times it can be overwhelming, but the Area Agency on Aging of Western Michigan (AAAWM) has plenty of resources in place to help. If you live in Allegan, Ionia, Kent, Lake, Mason, Mecosta, Montcalm, Newaygo, or Osceola County, AAAWM can support your nutrition needs. The meals created by our partners are built to include all the important nutrients older adults need on a day-to-day basis. Programs include:
Congregate Meals – Spread throughout all nine counties, congregate meal sites are a spot for qualifying seniors to enjoy a group meal and chat with other area residents.
Home Delivered Meals – Home Delivered Meals are perfect for individuals who are unable to leave their homes, but would still benefit from balanced, nutritious meals.
Food Clubs or Pantries – For individuals looking to build their own meals from fresh ingredients, local food clubs or food pantries are a perfect spot. However, requirements to visit these clubs/pantries will vary by location.
For more information about local congregate meals, home delivered meals, or food clubs/pantries please call us at 616-456-5664 or visit https://www.aaawm.org/services to search for services.
References
Nutrition Guidelines | ACL Administration for Community Living. acl.gov. Accessed March 1, 2023. https://acl.gov/senior-nutrition/nutrition-guidelines
Dodd K. Nutrition Needs for Older Adults: Fiber. National Resource Center on Nutrition & Aging; 2020. https://acl.gov/sites/default/files/nutrition/Nutrition-Needs_Fiber_FINAL-19-FINAL_508.pdf