Millage Minder: December 2021

Cold weather is here whether we like it or not, and winter can be especially difficult for older adults. Ice and snow can increase the likelihood of dangerous falls, cold weather makes it harder to take part in the activities they typically enjoy, and driving can become hazardous. These things tend to bring all of us indoors and as a result, we are more secluded from our communities and miss vital socialization. We want older adults to feel safe in their homes and their communities throughout the year, but especially in these vulnerable winter months. The Kent County Senior Millage works to eliminate these winter obstacles, funding specific services such as home chores, transportation, and healthy aging classes. In this Millage Minder, we will take a look at three (KCSM) partners, Building Bridges, Senior Neighbors, and Steepletown. Each shares the vital support they provide to older adults through the winter months and beyond.
---
Building Bridges Professional Services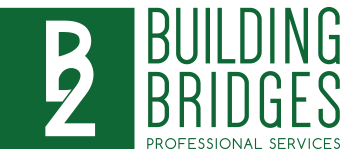 Building Bridges Professional Services has served the Grand Rapids community since 2007 and joined the Kent County Senior Millage network in 2015. Their focus is on community building and they offer home chore services for seniors in Kent County. This includes snow removal, lawn mowing, spring/fall cleanup services, trash removal, and other odds and ends job requests. Executive Director, Nathan Beene, shares, "Our services can help and have been proven to reduce stress in older adult homeowners and give them peace of mind. These services can also help older adults avoid slips and falls as well as avoid city violation fines related to unkempt properties." Having this burden of snow removal lifted in the winter months makes a difference to the seniors they serve.
In addition to the vital home chores, Building Bridges has continued to think outside of the box in response to the COVID pandemic. In partnering with their sister company cafe they were able to deliver hot meals to older adults, their staff also worked to deliver essential items and increased their check-in with clients through regular companionship calls. This special attention to older adults fully encompasses Building Bridges' care and commitment.
If an individual would like to get started with home chore services*, they can make a request on the Building Bridges website and the appropriate manager will contact them within 72 hours, or they are welcome to call the main number (616) 224-7409. There is a pre-qualification/registration form that a representative will review with them and find the best fit.
*It is important to note that Building Bridges is currently at capacity for their snow removal services this winter.
Phone: (616) 224-7409 | Email: info@buildingbridgesgr.com | Website: www.buildingbridgesgr.com
---
Senior Neighbors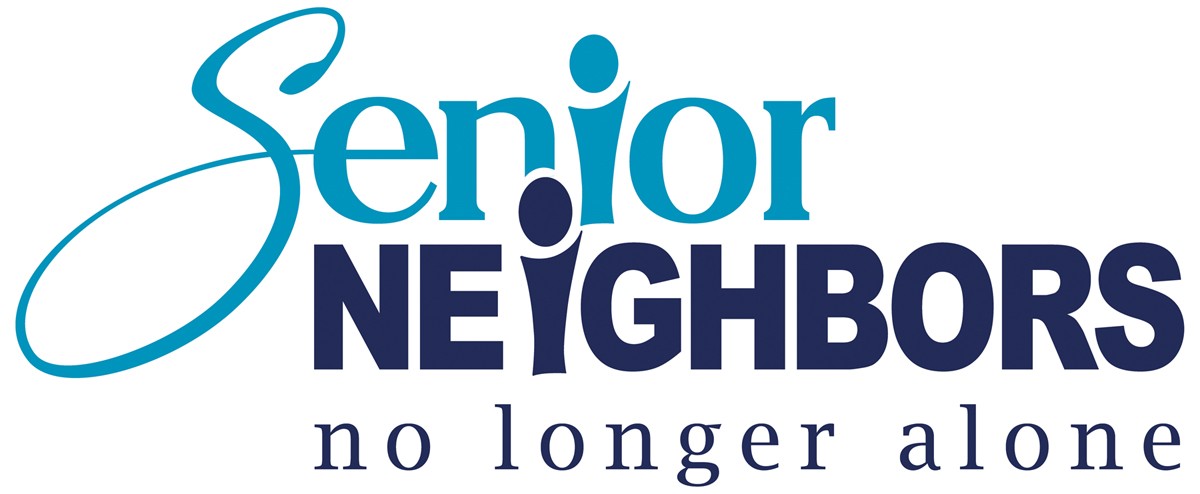 Senior Neighbors prioritizes the well-being of older adults through their five senior centers and services that promote self-sufficiency, especially to those with physical, social, or economic needs in Kent County. These essential services include problem-solving with Case Managers, healthy aging classes, home maintenance services, health coverage counseling, transportation, and volunteer opportunities.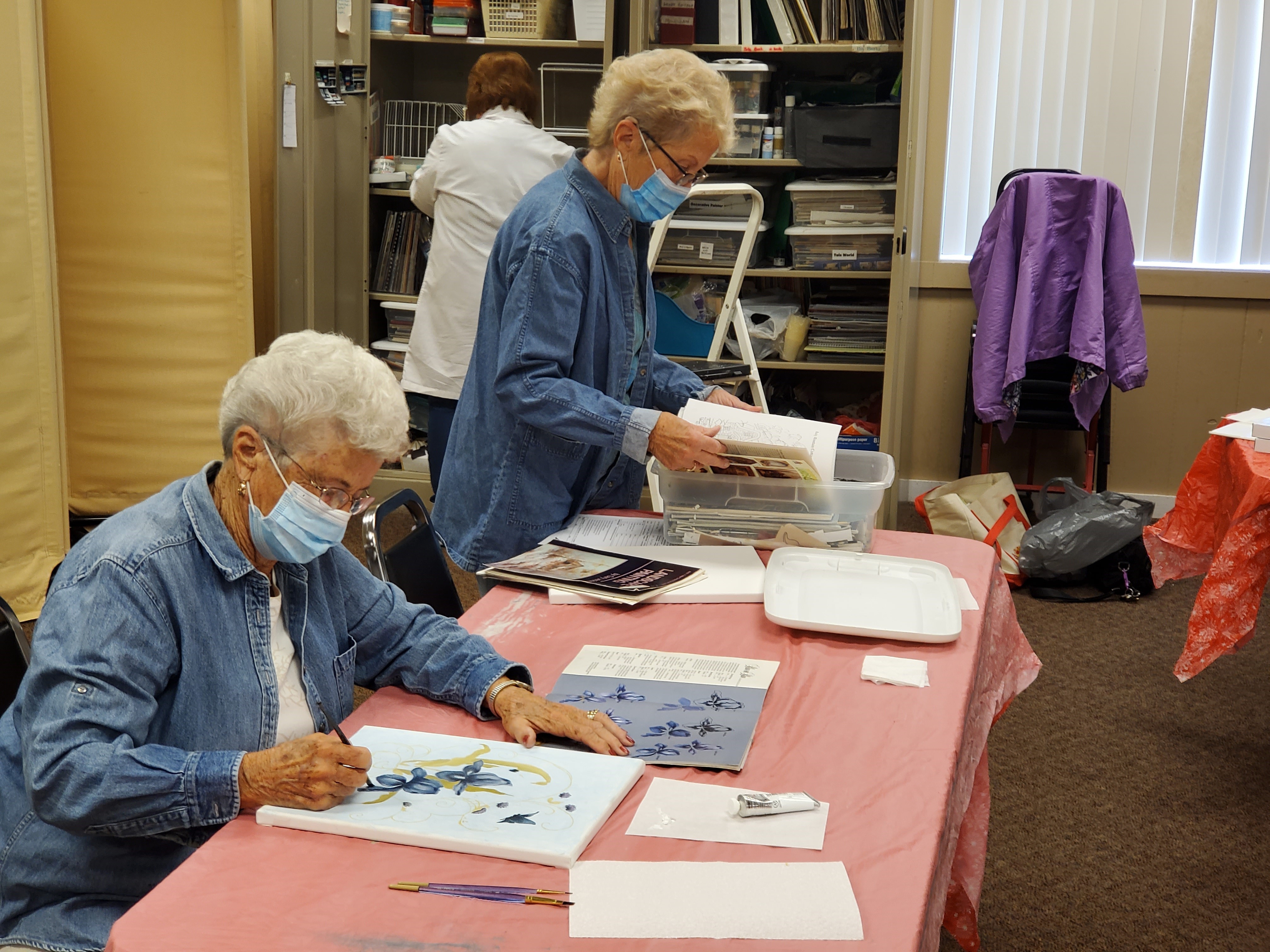 Of the transition to the winter season, Brian Clark, Director of Development and Donor Care, shares, "When temperatures turn cold, Senior Neighbors can be there for older adults for new challenges that may show up during the winter months. For seniors that choose not to drive with snow on the ground, safe and reliable transportation options are available. Sometimes the cold can create problems around the home and the home maintenance team may have solutions to help as well." Senior Neighbors also offers snow removal during the winter season, though it is of note that this program is currently at capacity for the winter months.
When it comes to continuing to pivot during the ongoing pandemic, Senior Neighbors has made numerous adaptations to meet older adults where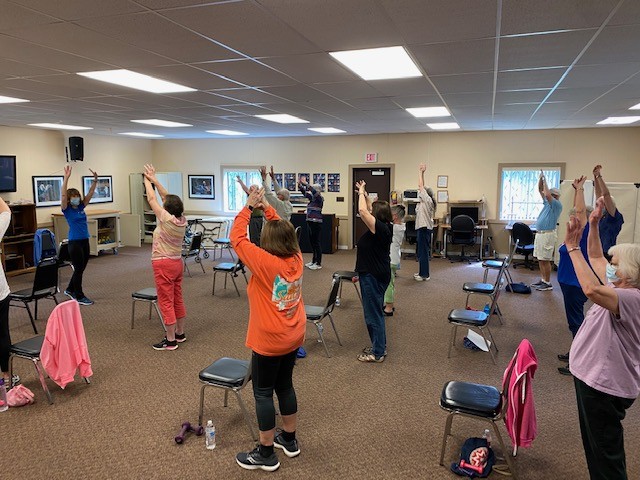 they are. Their senior centers have continued to offer activities to enhance older adults' socialization and sense of community. One popular option has been their healthy aging classes, which are taking place in-person, but also virtually via Zoom for those that have trouble fitting them into their schedule or who are choosing to take extra safety precautions. These classes can also be helpful for individuals who would like to rebuild their strength and balance. As Brian explains, "These classes focus on strengthening, balance, conditioning, flexibility, and having fun! All classes are safe and effective for older adults and can be adapted to the individual skill level of the participant." If older adults have concerns about driving in winter weather, Senior Neighbors' transportation service can be a safe alternative.
If you're looking to get connected to a senior center or would like information on program offerings, you can visit www.seniorneighbors.org. Senior Neighbors is also happy to answer further questions at (616) 459-6019.
Phone: (616) 459-6019 | Email: info@seniorneighbors.org | Website: www.seniorneighbors.org
---
Steepletown
Below from Dick Bulkowski, Executive Director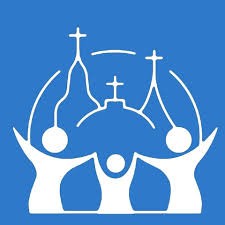 Steepletown has been a community partner of the Area Agency on Aging of Western Michigan for the past 11 years, providing home chore services for older adults. During the winter months, the focus is primarily on clearing snow from porches, steps, sidewalks, and driveways. Many older adults depend on home-delivered meals and/or have a variety of home- and healthcare services that need to safely access their homes. Many of them also have frequent doctor appointments, so again this work is vitally important to their well-being. We probably all share the concern of an older person falling, and so safe travel to and from one's home is essential.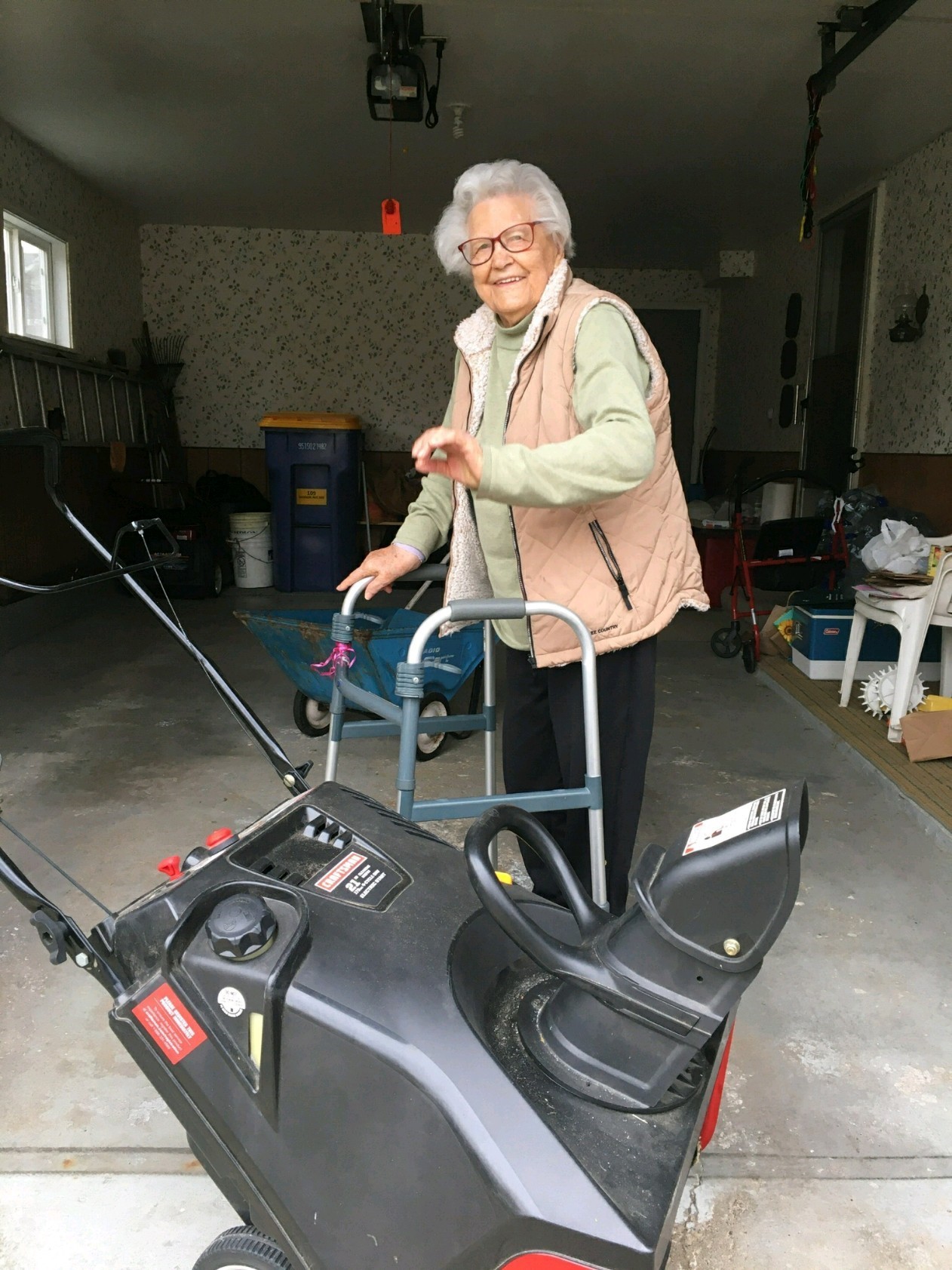 Steepletown's lawncare and snow removal for older adults began about 15 years ago when pushing a lawnmower in the summer months seemed like a good fit for young men who needed a "first" job as part of Steepletown's emerging workforce development training. For a couple of summers, Steepletown did lawn care for about 15 older adults. In turn, they were asked to make a donation towards this work. Thanks in large part to the Kent County Senior Millage funding, the number of older adults receiving lawncare has grown to 148 households; just over 70 of these receive snow removal.
Pictured left: 101-year-old KCSM Client, Josephine, finally decided it was time to ask for help in keeping her walkways and drive clear of snow this winter and therefore donated her snowblower to Steepletown to assist with this work.
For older adults who are interested in receiving these services, they may contact Beatrice Garza at Steepletown; (616) 451-4215, extension 109. While Steepletown currently has a waitlist, it is our goal to serve as many older adults as possible.
Phone: (616) 451-4215 | Email: info@steepletown.org | Website: www.steepletown.org
---
About the Kent County Senior Millage
Since 1999, the Kent County Senior Millage has helped fund services that help older adults remain in their own homes and communities as they age. Services like meal delivery, home modification, transportation, assistance with household chores, small home repair, wellness, dental, legal services, and in-home services provide seniors the support they need to continue living independent lives.
*Though these partners are currently at capacity for snow removal, emergency one-time snow removal is still available through the KCSM.
Kent County contracts with the Area Agency on Aging of Western Michigan to administer the millage dollars. You can see all of the services available in Kent County by searching our online directory here. Or, you can download a pdf version of the 2021 Kent County Senior Services Directory, Spanish version. You can also call (616) 456-5664 to get started!