Jackie O'Connor, Area Agency on Aging of Western Michigan Executive Director, to Retire October 1, 2022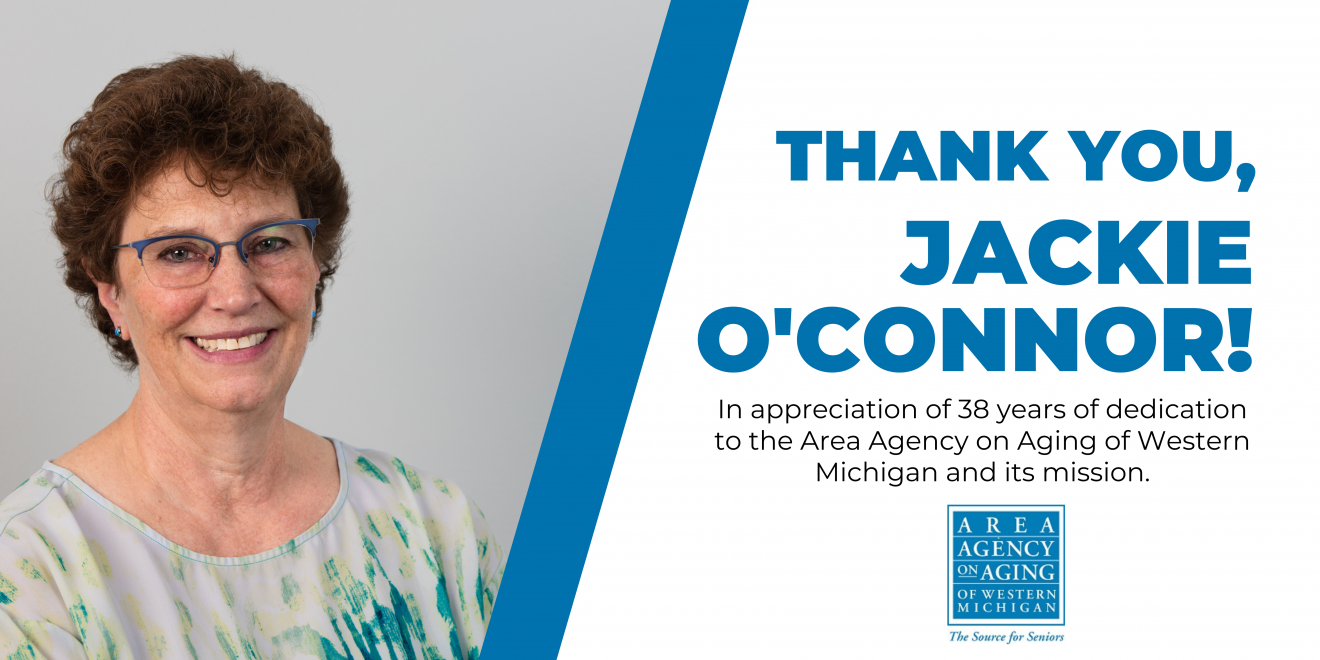 Area Agency on Aging of Western Michigan (AAAWM) Executive Director, Jackie O'Connor, announced her retirement for this coming October 1. Jackie has dedicated 38 years to the agency, older adults, and persons with a disability including spending the last 6 years in the Executive Director role. Under O'Connor's years of leadership, significant progress was made in advancing care and resources for those AAAWM serves and their caregivers. A proud graduate of Michigan State University and older adult postgraduate from Grand Valley State University, O'Connor began at the agency on July 17, 1984. Prior to the Executive Director role, she worked at the agency in a number of capacities including Registered Dietitian, Contract Coordinator for the meals programs, Computer Services Manager, and Assistant Director. Some of O'Connor's career highlights include:
Spearheaded agency response through the coronavirus pandemic with expanded services and support for homebound seniors through Covid Care Kits, the delivery of essential items, and electronic pets to seniors seeking companionship
Initial passing and successful continued renewals of the Kent County Senior Millage Campaign, of which the Area Agency on Aging of Western Michigan administers
Sustained advocacy efforts for senior issues at the state and federal levels
Led the implementation of nutrition services for Kent County – Meals on Wheels of Western Michigan
Initiated the development of the Senior Dental Days in Kent County with local volunteer dental offices
Saw an increase in providing services to participants in the MI Choice Medicaid Waiver program with up to 1,000 individuals served per month
Has been a keynote speaker at a number of state and national conferences to educate others on older adult issues
"Many lives of local seniors have been positively impacted by AAAWM programs and events under Jackie's leadership. Her commitment to the seniors we serve had been spirited and steadfast. In her retirement, I'm sure we'll still find her dutifully cheering on her Spartans and exploring National Parks. We wish her a happy retirement and many thanks for her exemplary leadership," shared Bill Routley, Area Agency on Aging of Western Michigan Board Chair. Please join us in showing our gratitude to Jackie for her leadership at our agency as she celebrates this new season.
The Area Agency on Aging of Western Michigan Board of Directors began an Executive Director search in May of 2022. Kendrick Heinlein, current Director of Contracted Services at the agency, will take over the Executive Director role on October 3.