Healthy Aging in the New Year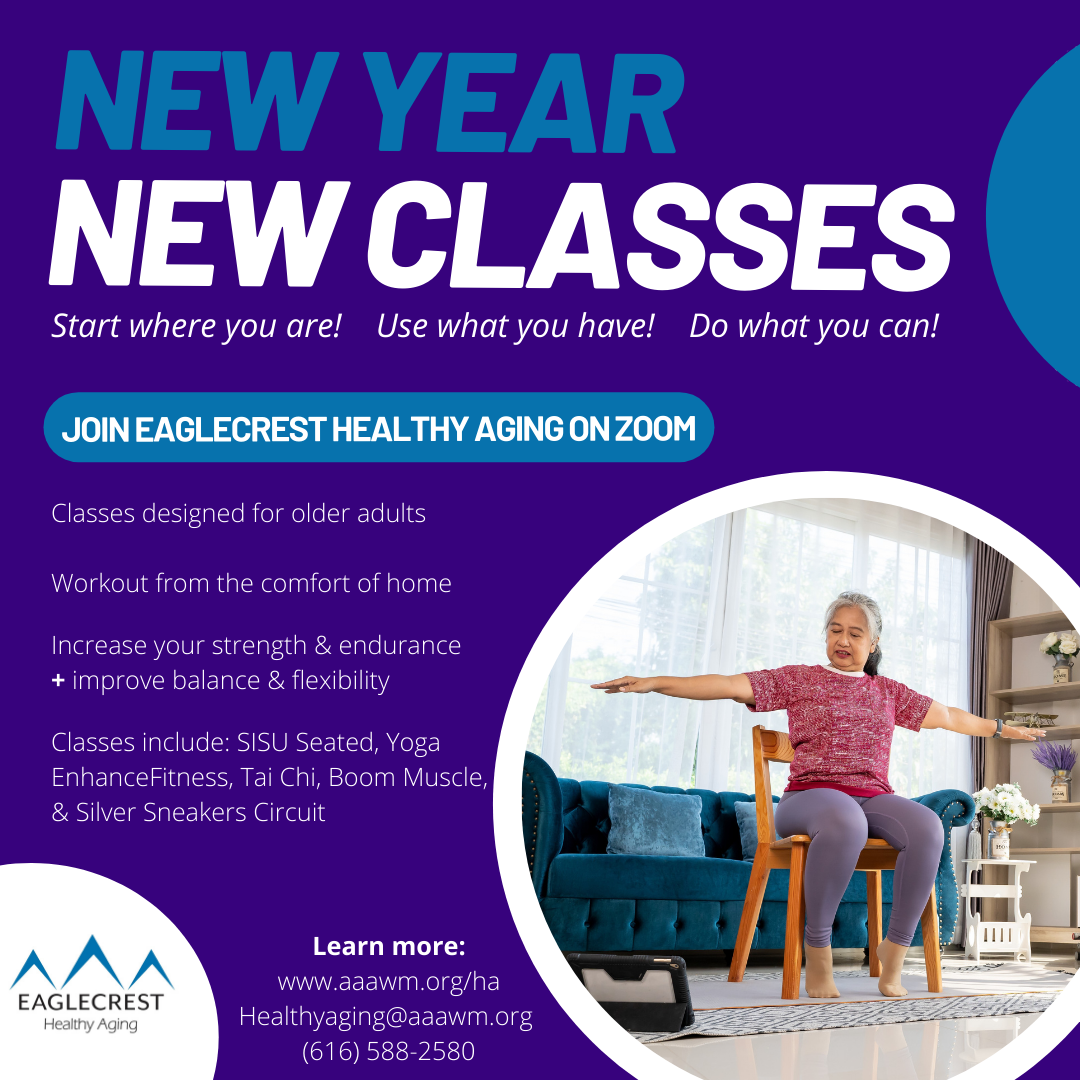 Are you looking for ways to become or stay active in the new year? Don't know where to start? Eaglecrest Healthy Aging may be the right fit for you! Their motto is "Start where you are! Use what you have! Do what you can!" There is no pressure to jump into the highest level, instructors have modifications throughout the programming and can meet you where you are. They like to say, "You do You."
In the new year, they have expanded their suite of programming to include more specialized classes. The SISU Seated class will give folks just beginning to exercise, or those recovering from illness or injury, a place to start. Yoga, EnhanceFitness, Tai Chi, Boom Muscle, and Silver Sneakers Circuit are other classes that will help you build endurance, strength, balance, and flexibility.
Being part of the Area Agency on Aging of Western Michigan, Eaglecrest Healthy Aging programs are designed specifically for older adults. They are dedicated to helping older adults stay active and independent, offering evidence-based classes that are safe and effective. As we get older the chance of suffering a fall increases, in fact, according to the National Council on Aging (NCOA) 1 in 4 Americans aged 65+ falls each year*. Incorporating a balance and exercise program can help build up your body's flexibility and strength.
No need to worry about leaving the comfort of your home to exercise, the Eaglecrest Healthy Aging classes come to you via Zoom. Want to try it without making a commitment? You can try all the live classes virtually for a week for free. You can meet the team of certified instructors and see the class format before you commit to buying a package. If you have a SilverSneakers or Silver & Fit insurance benefit there is no cost to you.
As an Eaglecrest Healthy Aging member, you'll also gain access to their wide library of videos, so you can fit your workouts into your schedule. The revamped virtual class schedule just launched in January, so kick off 2022 with Eaglecrest Healthy Aging! To sign up for your free week or to learn about membership and view the latest class calendar, visit www.aaawm.org/HA. You may also email healthyaging@aaawm.org, or call (616) 588-2580 with any questions!
Source: https://www.ncoa.org/older-adults/health/prevention/falls-prevention