Guest Post: The gifts and challenges of social distancing varied by age, and stage of life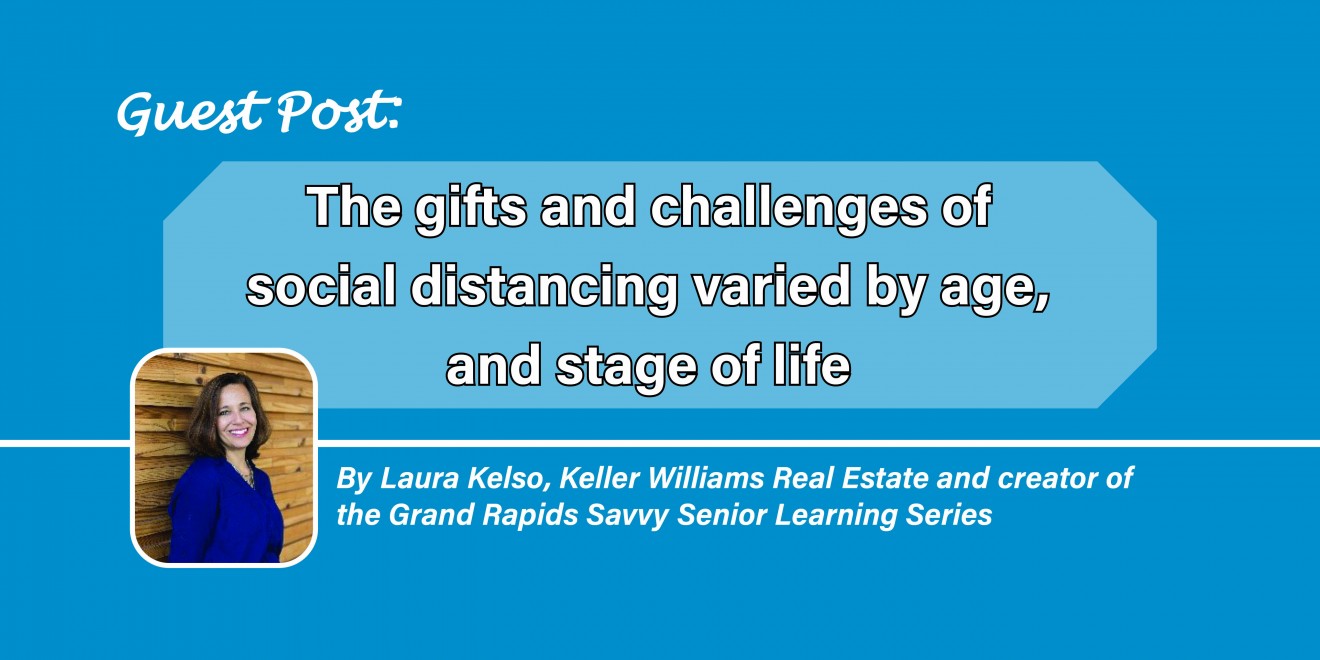 As the weeks of social isolation dragged on, most of us have found ourselves with increased time on our hands. Time to catch up on unfinished projects, time to organize areas of our home, and above all, time to think.
If you are like us, your house and grocery bill were out of control. Two college kids came home long before originally expected and our middle schooler, who normally raced from one social activity to the next, had to lament the memories that would never be made on the 8th grade Mackinaw trip.
While the Stay at Home Order caused us all to grieve different things, it also gave us gifts. An introvert at heart, I enjoyed the additional time to read, walk, and listen to podcasts. My children connected over Nerf wars and building virtual worlds in Minecraft, and my husband was spared his hour commute to Lansing at least a few days. As a family, we laughed over card games, board games, and 80's movies. This time was sacred. I was brutally aware that we may never get this level of family togetherness again without the addition of significant others or spouses.
But what about those who were forced to self-quarantining alone? Seniors, especially those still living in their own homes, faced unique challenges. Resilient people at their core, they have seen much, done much, and lived through much. One senior I spoke with had a good laugh over the absurdity of hoarding toilet paper. She told me during WWII her family used newsprint and got along simply fine. Problem Solved!
Most seniors I know enjoy busy lives filled with everything from volunteering to pickleball. Like all of us, they were stripped of their social outlets. To add insult to injury they were reminded daily of the health risk they faced if they choose to venture to the grocery store. Many of us lessened the sting of social distancing by embracing technology. That was not an option for many tech-challenged seniors and became yet another nail in social isolation coffin.
On another front, tearing through home projects gave many a sense of deep accomplishment during chaos where older adults were reminded of things they could no longer do without assistance.
Some think going through a public health crisis such as COVID-19 will cause older adults who were considering a move to a community to think twice. The fear of a virus spreading like a wildfire through seniors living in the community would make everyone want to "Age in place." The truth was the communities I know moved Heaven and Earth to keep their residents both safe and engaged. Uplifted. Healthy in both body and spirit. Being in lockdown was disheartening, but the old saying that "Misery loves company" rung true.
None of us know what the future will hold. What we can do after a challenging time such as this, is take stock of the things we hold dear, and contemplate who we would like to be stuck with the next time we are asked to Shelter in Place.
Laura Kelso is an Associate Broker with Keller Williams Real Estate who specializes in downsizing. She created the Grand Rapids Savvy Senior Learning Series at Meijer Gardens to educate and empower adults on topics associated with healthy living. For more info visit GRSAvvyseniors.com or call Laura at 616-724-7200.