3 Steps To Create a Dementia Care Plan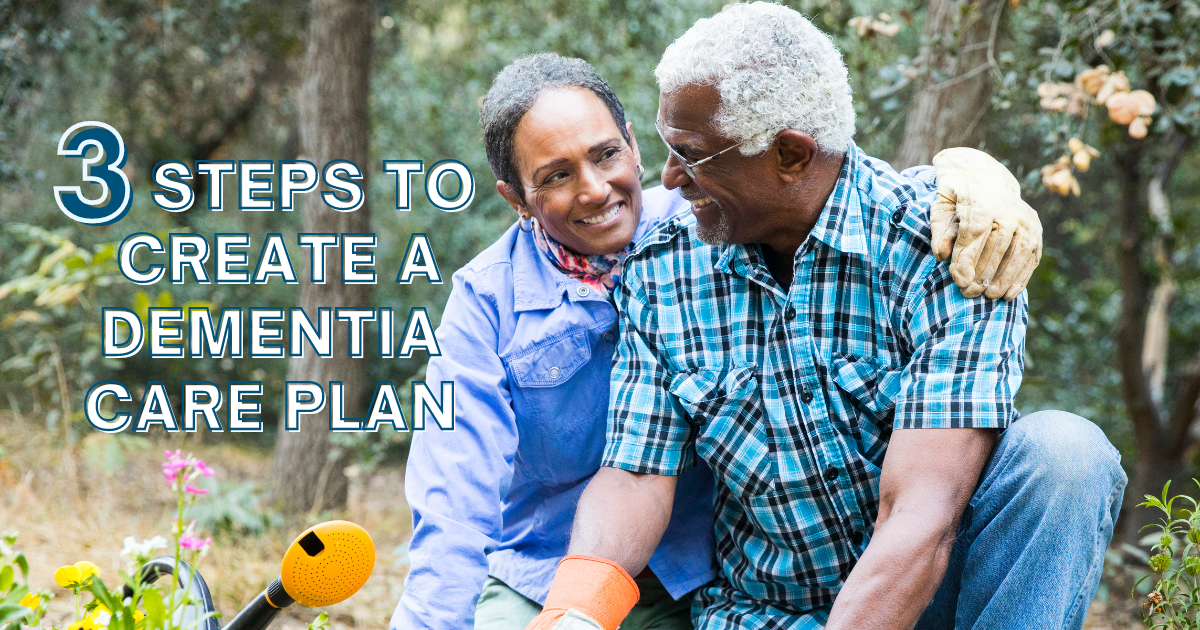 Caregiving for a loved one with dementia can be an overwhelming experience at times. Depending on the progression of the disease, the simplest tasks can often feel impossible – taking a shower, picking up a few items from the grocery story, keeping an appointment. Asking for help from family and friends seems like too much and accepting offers of help can feel difficult to navigate, where do you even start? Dementia Friends Program Coordinator, Brandon Beck, talks us through his three step approach to help make the care of a loved one seem more manageable.
Education
Education is essential in providing person-centered care. It can be really easy to just jump into programs and resources, however taking the time to really understand the needs and experiences of your loved one with dementia and learning more about the disease itself is vital. Brandon recommends the friends and family in that circle of support to join in at this step so that there is a common understanding across the board, and everyone is on the same page. Together they can attend available educational opportunities, some of these include:
Dementia Friends: a FREE one-hour informational session that provides an overview of dementia, early warning signs and symptoms, and communication strategies. This program is a great starting point for families, caregivers, and professionals to gain a deeper understanding of the disease and start developing a person-centered care plan. All sessions are conveniently located both in-person and via Zoom. www.aaawm.org/dfmi
Family Caregiver University: (FCU) offers monthly educational presentations for caregivers, providing education, support, and comradery to increase confidence in caregiv­ing and decrease feelings of isolation. From strategies to avoid burnout, to increasing well-being, to advance care planning, FCU offers a wide variety of programs that may spark your interest! www.caregiverresource.net
The Alzheimer's Association: a partner organization that provides essential education and support services to all people living with dementia as well as their caregivers. Whether you are looking for more social support at early stages of dementia, facilitated support groups, how to connect and communicate with your loved one, respite care, or one-on-one counseling and consultation, the Alzheimer's Association can be a great place to start. https://www.alz.org/gmc
Resources
"It can be overwhelming to sort through all of the many resources that are out there. I always encourage people to think creatively, and visualize what a day in the life might look like utilizing some of these resources. An example might be that your loved one is utilizing adult day services during the day, and you marry that to a home delivered meal on the same day. So now a day that way may be filled with stressors has now opened up for you a bit. You can really see how combining some of these resources, and thinking creatively really starts to move the needle and make a difference in your day in the life as a caregiver and for your loved one with dementia", explains Brandon.
Make a Plan
Pulling it all together! Through what you've learned about the disease and a deeper understanding of community resources, you'll likely feel more equipped to create a unique, informed care plan specific to your loved one. Taking the time to fully engage in the two previous steps can help you with competent decision-making and can increase confidence in yourself as caregiver overall. Creating a person-centered care plan will involve some trial and error, so be sure to share successful approaches with your circle of support so they can adopt similar practices whenever possible. Continually evaluate your care plan alongside changes in your loved ones' well-being, and be prepared to alter your approach accordingly.
If you'd like to learn more about these dementia services, you can contact the Area Agency on Aging of Western Michigan at (616) 456-5664 or visit www.aaawm.org