Over $15 Million In Funding Set to Positively Impact Older Adults Through the Kent County Senior Millage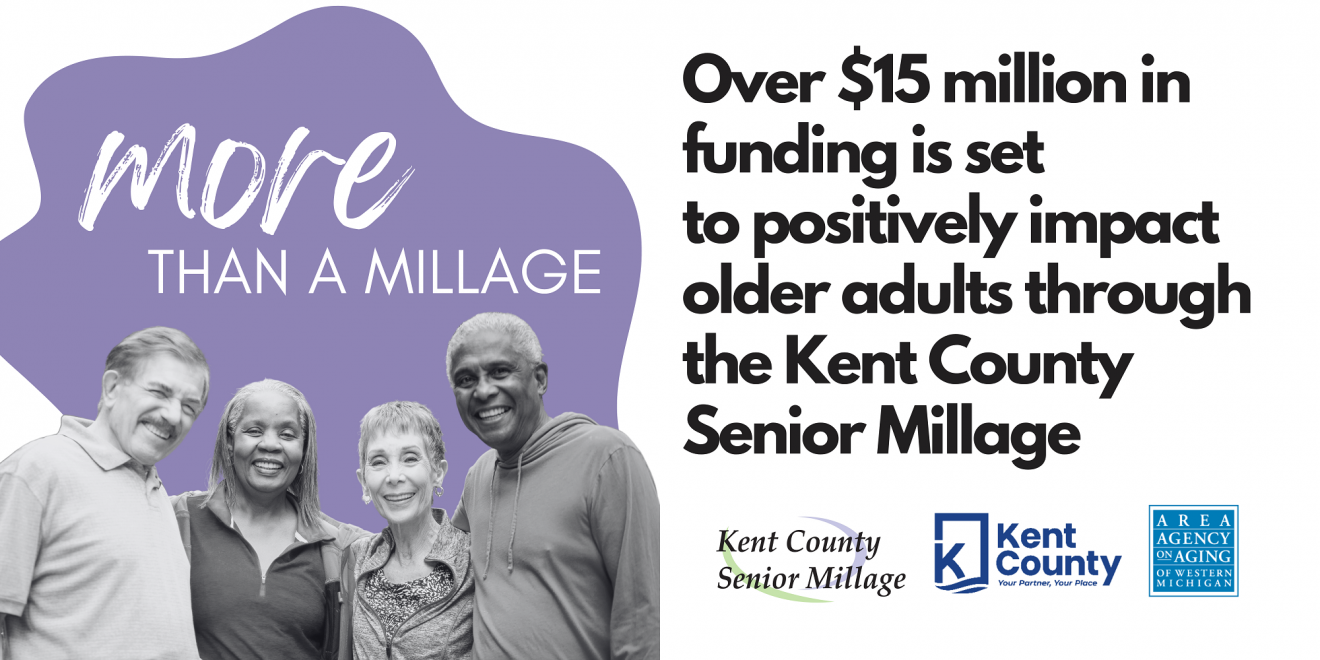 The Area Agency on Aging of Western Michigan is pleased to announce the Kent County Senior Millage (KCSM) for the 2024 fiscal year was approved by the Kent County Board of Commissioners at its September 14, 2023 meeting. In total, more than $15 million will be distributed to 32 agency partnerships and 48 unique services, all coming together to provide resources for older adults to continue living independent lives.
"We extend our gratitude to the residents of this community who have recognized the intrinsic worth of supporting our older adults through the senior millage," said Kent County Board of Commissioners Chair Stan Stek. "It not only serves as a testament to our community's compassion but ensures our older adults continue to live independently and receive the support they need and deserve."
The KCSM has helped fund vital services for older adults in Kent County since 1999 with the goal of enabling them to stay in their homes and communities as they age. The 2024 funding continues this legacy by supporting a variety of services throughout Kent County with special attention to priority services, including meal delivery, transportation, in-home services, adult day, and outreach and assistance. A new partner for this fiscal year is the Hispanic Center of Western Michigan who will provide outreach and assistance to seniors in the Latino community.
"We are excited about the upcoming partnership with the Area Agency on Aging to better serve our Hispanic seniors," said Evelyn Esparza Gonzalez, Executive Director, Hispanic Center of Western Michigan. "Together, we will provide tailored outreach and assistance that will enhance the quality of life for our beloved community members, and we look forward to the positive impact it will bring to their lives."
The KCSM Review Committee, composed of community members and County Commissioners, came together in May to review proposals, hear presentations from the agencies that requested funding, and make funding recommendations to the Board of Commissioners.
Of the process, Vice President of Contract Services, Cassie Caple, shared, "Ultimately, we want to ensure that the services funded through the millage are designed to support older adults as they age. Each year we consider how these services come together as a comprehensive system; eliminating gaps in care, coming alongside caregivers, and allowing seniors to stay engaged in their communities. When determining funding, we also look to the larger KCSM partner network. The way that this partner network supports one another and problem-solves together, especially as senior needs change, has been outstanding. Their steadfast commitment to older adults in Kent County is apparent, and 2024's partner network embodies this same dedication."
To be eligible to participate in a KCSM-funded program, individuals must be a Kent County resident and 60 years of age or older. Donations are accepted and, in some cases, co-payments may be required.
---
About the Senior Millage: Kent County residents approved a renewal and increase to the millage in August 2022 and it is currently an 8-year millage cycle. The Area Agency on Aging of Western Michigan is contracted through Kent County to administer the millage, ensuring that it directly supports services that help older adults remain independent. You can learn more at www.aaawm.org/kcsm.