Kendrick Heinlein Announced as the New Executive Director for the Area Agency on Aging of Western Michigan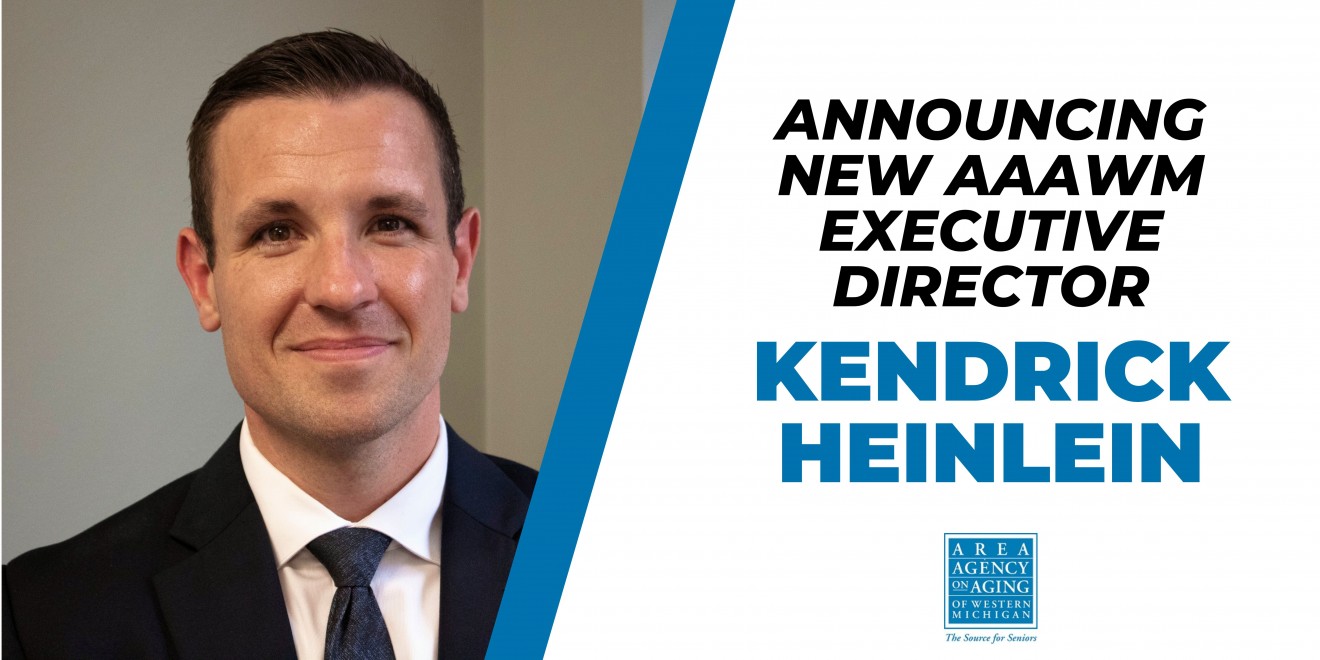 The Area Agency on Aging of Western Michigan (AAAWM) is pleased to announce that Kendrick Heinlein, current Director of Contract Services at the agency, will take on the role of Executive Director beginning October 1, 2022.
The Area Agency on Aging of Western Michigan Board of Directors began an extensive Executive Director search in May of 2022. Of their selection, Bill Routley, AAAWM Board Chair shares, "Kendrick brings strong leadership skills and a passion to build on an already great leadership team. His knowledge of our role and mission as well as services provider partners is invaluable. He has demonstrated effective leadership in his current role and has a great working relationship with the staff."
Kendrick brings close to a decade of experience working in social services with a focus on project management, program delivery, and leadership development. He is a graduate of Grand Valley State University where he received a Bachelor of Science in History. Additionally, he has his Master of Business Administration in Healthcare Management from the University of Michigan. Kendrick has been with the Area Agency on Aging of Western Michigan for the past six years. In his work at AAAWM, he has spearheaded the advancement programs for older adults including the expansion of the RideLink transportation program, LGBTQ+ programming, pandemic response senior support, and technology assistance. In his most recent role as the Director of Contract Services, he oversaw the annual budget program of the Kent County Senior Millage and Older Americans Act funding.
"I look forward to building upon our current services to best support seniors, persons with a disability, and their caregivers in our nine-county region. I want AAAWM to be recognized as an aging resource where staff and partner agencies collaborate on innovative and inclusive programming to support these populations and fill gaps in care. I'm thrilled to be able to continue to work with the community in West Michigan as well as our amazing partners and staff on reaching these goals," explains Heinlein. In his spare time, Kendrick enjoys spending time with his family, golfing, and exploring new hiking trails.
Please join us in congratulating Kendrick on his new role! He will officially transition to Executive Director on October 1 after Jackie O'Connor, the current Executive Director, retires after 38 years of dedication to the agency.